395 nm LED Black Lights
>>68 LED Black Light
---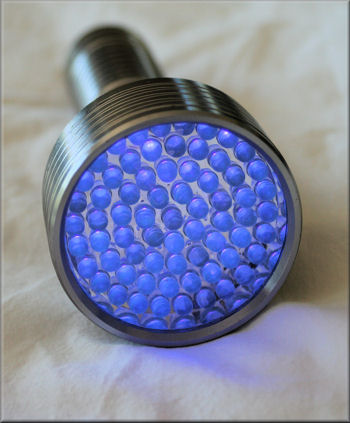 68 LED Scorpion Hunter. Here is one heck of a light - 68 LEDs all putting out strong blasts of UV light. This is the brightest one we have ever seen. Certainly, it is the brightest you will come across. Even better than that - there are really 3 switches, the first will light 1/3 of the UV LEDs, the second will light 2/3's of the LEDs and the last will blast out all 68 LEDs. Sometimes you just do not need that kind of power. You must be careful, with this type of strength, it is not something you want to stare into.
This is a strong, durable and rugged flashlight. It will outlast any scorpion. Use it for your work or play, it is the best. The scorpion hunter is six inches long, the illumination portion is 2.5 inches. The end of the lamp has a small place to attach a lanyard or similar carrying device. It has an anodized aluminum body finish. This unit takes 4 AAA (1.5V) batteries, not included. By the way, the LED's are rated at 100,000 hours, so you do not have to worry about the lights burning out. Finally the weight of the flashlight is 199 grams
If you must have the best of the best, the Scorpion Hunter is it. It will do so much more than spotlight any scorpion around you. The wavelength is 390 nm, so this will show up crime scenes. This light is 6 inches long, the head is 3 inches and the body has a diameter of 1 inch.

Use UV Light to Spot Germs
Checking ultraviolet inks in currency and ID's
Check credit cards- Discover Cards have "NOVUS", MasterCard have "M C", and Visa has an eagle in UV ink.
Activation of fluorescent inks/dyes used as anti-counterfeiting measures
Checking hand stamps at clubs
Examining artwork and glasswork for hidden repairs
Small UV source will fit inside and behind objects
Scan a crime scene for foreign materials
Locating damaged/cracked glassware
Scorpion Illumination, Scorpion hunting or avoidance
Fluorescing diamonds- some will glow in the dark.
Fluorescing dyes used to check leaks.
We felt that you might want to see what a scorpion looks like under our UV lights. This is a video sent in by Brad Vinson who is currently stationed in Afghanistan. He has been hunting scorpions in the mountians. This video shows a scorpion under normal light and then our black light. It is a good video.