395 nm LED Black Lights
>>Monster 30 Watts
---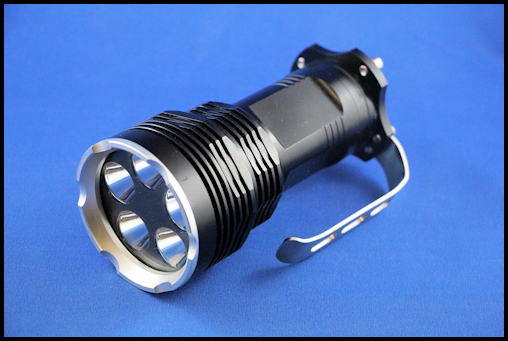 An absolute must for the professional.
The strongest we have seen. This has 30 watts of UV power. Enough to see anything within reason. Powerful enough to use in daylight. This is no small light. Everyone here agrees that it is the smallest, most powerful one that we have ever seen.
Because of power of this monster, we recommend UV glasses. This one can do permanent damage to your eyes. We do not sell glasses. Needless to say, this is not for kids.


Features:
(1). Item #: BL51
(2). Model:High Power Rechargeable UV Torch
(3). LED Light Source: 5PCS R5 UV LED
(4). Power: 4x18650 Li-ion batteries
(5). Modes: High--Middle--Low--Flashing--SOS
(6). UV Wavelength: 395 nm
(7). Power: 30 W
(8). Material: Aluminium alloy