395 nm LED Black Lights
>>14 LED Black Light
---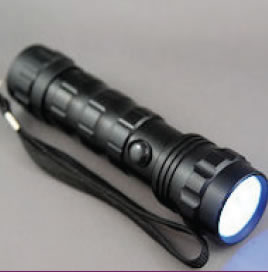 Probably just the finest utilitarian black light on the market. This is a LED light that utilizes 14 individual LED lights for a bright and bold shine. This is so bright that it can even been seen in the daylight. This 5 inch metal light will last and last. It is a truly fine instrument that will serve you for many years.
If you have ever wanted to go scorpion hunting - this is one of the best. They will light up like a Christmas ornament. Remember, we do not sell batteries, nor does this come with batteries.
If you are purchasing this for cat urine detection, a shorter wavelength will give much better results. The 375 - 360 nm will be much better -- shorter wavelengths tend to cause things such as biological fluids to fluoresce. 395nm is actually still largely within the visible range, so will throw a lot of visible violet light, which will make the fluorescence of a cat, harder to see, and in general won't be as effective. Our recommendations are number 1 and number 2 and number 3.

Features:
BRIGHT! Fluoresces at distances over 20 feet in darkness
Unbreakable Super Bright LED bulb
Toggle on-off switch for continuous use, "Hands-Free" on switch allows you to dangle the UV light source in tight places