365 nm LED Black Lights
>>USB, 365 nm Black Light
---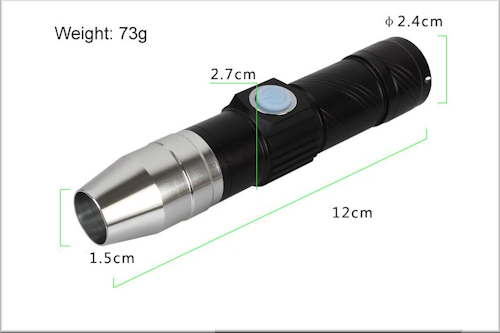 This is a great black light.....and it is a 365nm light. Super easy to use, just open the back and insert the light in any USB port - your computer - where you recharge your phone, even may outlets now have USB ports.
Great for:
* Fluorescence Excitation
* Sensor Light
* UV-Curing
* Ink-Curing
* Use UV Light to Spotting Germs
* Checking ultraviolet inks in currency and ID's
* Check credit cards- Discover Cards have "NOVUS", MasterCard have "M C", and Visa has an eagle in UV ink.
* Activation of fluorescent inks/dyes used as anti-counterfeiting measures
* Checking hand stamps at clubs
* Examining artwork and glasswork for hidden repairs
* Small UV source will fit inside and behind objects
* Find urine stains (i.e. at the hotel before you hop in bed!)
* Scan a crime scene for foreign materials
* Locating damaged/cracked glassware
* Scorpion Illumination, Scorpion hunting or avoidance
* Fluorescing diamonds- some will glow in the dark.
* Fluorescing dyes used to check leaks
You are going to love this handy light. By far, the most fun and easiest to use light we have seen in a long time and at a great price for a 365nm light.