365 nm LED Black Lights
>>Counterfeit Dual Detector
---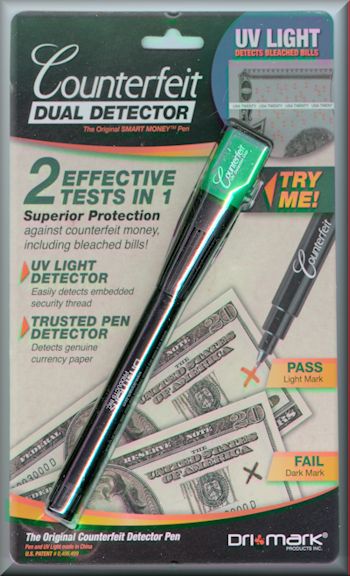 Easy to use detector pen can quickly detect bad bills in seconds
Maximum protection against loss due to bill counterfeiting
2 effective tests in one convenient pocket-sized unit
Recommended by experts
UV Light Detector Pen Cap detects currency security thread

Dri Mark® Dual test counterfeit pen and UV detector combo is specialized for detecting the authenticity of currencies as well as the authenticity of drivers' licenses, passports, credit cards and more.

Dri Mark® Counterfeit money detector pen is lightweight counterfeit detector pen operates on 3 button-cell batteries and prevents your business from accepting fake currencies. Pen is ideal for convenience stores, fast food operations and other transactions.