White Lights
>>1000 Lumen Diving White Light -- 50% OFF
---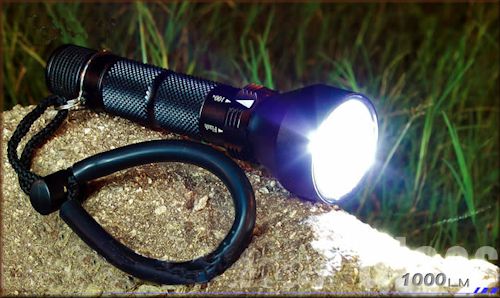 Sometimes it is just plain fun to describe these lights. This is a quality product and shines anywhere - and wow, it is bright. 1,000 lumens will knock the socks off your feet. That is so bright that you cannot look at it directly. If you want to disable someone, just shine it in their eyes. This uses a CREE T6 LEd light. It has 4 work modes, low is 10% brightness, middle is 50% brightness, high is 100% and then there is the flashing mode. It is made of a high quality black aluminum alloy which is scratch resistant.
Now, hang on to your hats, this is waterproof to 100 meters. Yes, you can even use this while scuba diving, it is waterproof. We feel so strongly about this gem that we will guarantee it or a year. You do not have to be a scuba diver to use this. We use this everywhere as a general purpose light.
It uses a battery called 18650 - that is a rechargeable lithium battery (not a normal AAA or AA battery). Since most folks do not have these batteries, we do recommend that you purchase one and a charger for the battery. The battery is a 2400 mAh battery.
Everyone here loves the rotatable magnetic switch. You will also and you'll have great fun using this beauty. It is 6 inches long and the head light portion is 1.5 inches - the perfect size for anyone and a quality product to boot. This comes with its own charger and lithium battery. You cannot miss with this quality product.